If there's one gift I can recommend giving this Mother's Day, it's a gift from the heart. Perfume and chocolates are all well and good, but everyone, including Mom, has an interest or a hobby that can inspire a more creative purchase. Does she like to garden? How about a new garden tool set, or a collection of small vases for her beautiful flowers. Does she like to read? What about an engraved bookmark or a few books from her favorite author. Is she going on a trip soon? Pick up a pack of nice travel toiletries or a pashmina shawl, and take her out to lunch before she leaves.
However, if you feel like you've exhausted all those options, or if a gift isn't in your budget, then do I have the solution for you! Try your hand at homemade and bake a batch of cookies. Specifically, these cookies. The lemon flavor is fresh and summery, the thyme is subtle, and the whole cookie is buttery and beautifully golden.
A word of advice, though: Shortbread is scrumptious but not the most sturdy kind of cookie, so don't bake these cookies if you're planning on sending them in the mail. I made this fatal decision a few days ago and just as I was packing the cookies up to send to my mother and mother-in-law, they started breaking in half. I'm perfectly confident that if you nestle them carefully in a box with some kind of padding, you won't have the same result. Just please don't send them off in a plastic bag and hope for the best unless Mom is okay with crumbled cookies.
And hey, if lemon, thyme or shortbread, or the combination, aren't your thing, I have another option for you coming on Friday!
Craving more? Keep in touch on Facebook, Twitter, Pinterest and Instagram for new post updates and more. You can also check out my FAQ page, or contact me with any questions or inquiries!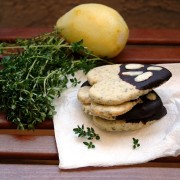 Lemon-Thyme Shortbread Cookies
Yield: Makes about 2 dozen (2-inch) cookies
Ingredients:
2 cups all-purpose flour
1/2 cup blanched slivered almonds
4 1/2 teaspoons fresh thyme leaves
1 1/2 teaspoons lemon zest
1/2 teaspoon salt
2 sticks (1 cup) unsalted butter, softened
1/4 cup granulated sugar
1/4 cup confectioners' sugar
1 teaspoon vanilla extract
1 teaspoon lemon juice
Garnish:
5 oz. semisweet chocolate
3 tbsp. water
2 handfuls slivered almonds
Directions:
Directions Place 2 tablespoons of the flour, almonds, thyme leaves and lemon zest in an electric food processor bowl fitted with a metal blade. Cover and pulse for about 20 to 30 seconds or until the mixture is finely ground, but not pasty.
Sift the remaining flour and salt together into a medium bowl. Stir in the almond mixture until the ingredients are mixed. Set aside.
Beat the butter, granulated sugar and confectioners' sugar in an electric mixer bowl at medium speed for about 2 minutes, or until light and fluffy. Reduce the speed to low speed and gradually beat in the flour mixture, beating until just combined. Stir in the vanilla and lemon juice. Shape the dough into a disk and wrap tightly in plastic wrap. Refrigerate for 1 to 2 hours, or until the dough is firm.
Heat the oven to 300 degrees and position the rack in the center of the oven. Line a baking sheet with parchment paper.
Roll out the chilled dough on a lightly floured surface to about 1/4-inch thickness, adding only enough flour to prevent the dough from sticking. Cut with a 2-inch round cookie or biscuit cutter. Place the rounds about 1/2-inch apart. Bake 1 sheet at a time for about 20 minutes or until the shortbread is lightly browned underneath. Remove immediately to wire racks to cool.
Cool the shortbread completely. Put the chocolate and water in a microwavable bowl. Microwave on HIGH for 2 minutes, stirring after the first minute. Dip one-half of each cookie into the melted chocolate and place them on a rack over a cookie sheet to catch any drippings. While chocolate is still soft, place a slivered almond on top of each cookie. Refrigerate for 1 hour to set chocolate. Store shortbread in an airtight container at room temperature for up to 1 week.
Enjoy!