Maybe it's just the excitement of spring but I can't help but see delish strawberry dishes all over my favorite food blogger's sites, and I'm lovin' it! In particular, this amazing Strawberry Coffee Cake recipe from Joy The Baker caught my eye, and the second I saw it I wanted to make it, then and there. And I would!
Except for one thing. I had no strawberries and no car (Mark drove mine to work today).
No car, be damned! I hoofed it a mile to the store, a mile back home, and whipped up this little beauty for this weekend's breakfast. What can I say, I was a woman on a mission!
Oh! And, speaking of strawberries, I should also mention to you SoCal bloggers that Joy from Joy The Baker and her friends are having a FREE strawberry cooking demonstration at Surfas in Culver City on April 10th, and I'll be there! I would love to meet any of my SoCal readers (Are you out there?), so please don't be shy and let me know if you can make it!


Craving more? Keep in touch on Facebook, Twitter, Pinterest and Instagram for new post updates and more. You can also check out my FAQ page, or contact me with any questions or inquiries!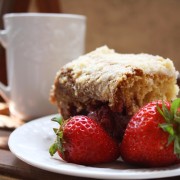 Ingredients:
1 heaping cup sliced strawberries
1/3 cup sugar
2 teaspoons water
2 tbsp. cornstarch
1/2 cup butter, softened
1 cup sugar
2 eggs
1 teaspoon vanilla extract
a few drops of almond extract (optional)
2 cups all-purpose flour
1 teaspoon baking powder
1 teaspoon baking soda
1/2 teaspoon salt
8 ounces sour cream
Topping:
3 Tablespoons cold unsalted butter, cut into 1/2-inch cubes
1/2 cup all-purpose flour
3 1/2 tablespoons sugar
Directions:
Preheat oven to 350 degrees F. To make the topping: Combine all the topping ingredients in a bowl and rub together with your fingertips until crumbly. Set aside.
To make the strawberry mixture: Combine strawberries, 1/3 cup sugar, water and cornstarch in a small saucepan. Cook over low heat for 5 to 7 minutes, stirring constantly until the sauce is thickened and strawberries are soft and somewhat broken down. Set aside to cool. Grease and flour a 10x10-inch baking dish, knocking out excess flour, and set aside. To make the coffee cake: Cream butter and sugar until light and fluffy, about 3 minutes. Add eggs one at a time, beating well after each addition. Add vanilla extract, and almond extract if you're using it. Sift dry ingredients together. Add the dry ingredients to the creamed butter in 3 parts alternating with the sour cream in 2 parts, beginning and ending with the dry ingredients. Beat just until combined.
Spoon 2/3 of the batter into the prepared pan. Spread the cooled strawberry mixture over the batter. Spoon the remaining batter onto the strawberries and spread evenly. Top with streusel topping and bake in the upper third of the oven. Bake for 50-60 minutes, until a knife inserted into the center of the cake comes out clean. Enjoy!