The day I went to the grocery store for heavy cream and sweet potatoes, I was feeling super excited about trying this new recipe from my Real Simple magazine. I thought I'd be in, be out, and back in the kitchen in no time. As it is, I go to the grocery store like it's my job, so I feel like I have a pretty good handle on where everything is. As it turned out, my brownish-blondeish hair was a little on the "blonder" side that day.
Let me explain.
See, every time I reach the potatoes in the produce section, by default, I look DOWN to see where there are bags of potatoes, not UP where there are tons of individual potatoes displayed, because that's always what I buy. I'm ashamed to say I didn't even know what a sweet potato looked like, so I didn't even know what to look for. To say the least, I was not all that confident going into this one, having never seen a sweet potato before.
Obviously, I found the potatoes and the story has a happy ending because I'm now sharing with you the most indescribably delicious side dish that requires the littlest possible effort.
These creamy, melt-in-your-mouth potatoes are so very easy to make and have such a warm, cozy flavor. They taste like Thanksgiving in the same way that Cadbury eggs taste like Easter (mmm…), which makes them a fantastic addition to a holiday party.
A side dish, even during weeknights, should never be an afterthought. Make something different and delicious to compliment your main dish. Otherwise, you get stuck in a rut, like I have been before. No more ruts and, hopefully, not many more blonde moments!
Craving more? Keep in touch on Facebook, Twitter, Pinterest and Instagram for new post updates and more. You can also check out my FAQ page, or contact me with any questions or inquiries!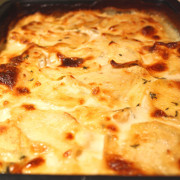 Scalloped Sweet Potatoes with Thyme
Ingredients:
2 medium sweet potatoes (1 pound), peeled
2 medium russet potatoes (1 pound), peeled
2 cloves garlic
2 tsp. fresh thyme leaves
Salt and black pepper
2 ½ cups heavy cream
Nonstick cooking spray
Directions:
Preheat oven to 400 degrees. In a food processor fitted with the thinnest slicing disk (2 millimeter), or carefully with a mandolin, slice the potatoes.
In a shallow 13 x 9 baking dish, toss the potatoes, garlic, thyme, 1 tsp. salt and 1 tsp. pepper. Add the cream and press gently to submerge the potatoes.
Cover the dish with foil sprayed with nonstick cooking spray, place the dish on top of a rimmed baking sheet, and bake for 20 minutes. Remove the foil and bake until the potatoes are tender and the top is golden brown, 25 to 30 minutes more.
Enjoy!