If you're in the mood for something sinful, fried and oh-so-good but bad for you, go gobble up a funnel cake (I won't judge). But, if you have the good sense to whip up something in your home that's delicious and fried-tasting but not all that bad for you, have I got just the thing!
These oven baked onion rings are not quite the same as what you get at carnivals and greasy spoon joints, but they are pretty darn close and they don't pack nearly as many calories as your typical breaded and deep-fried onion ring. They're very easy to prepare, and they serve as an indescribably tasty sidekick to a burger hot off the grill, or as a snack by themselves.
With these little babies, you can have your onion ring and look good in those spring clothes, too!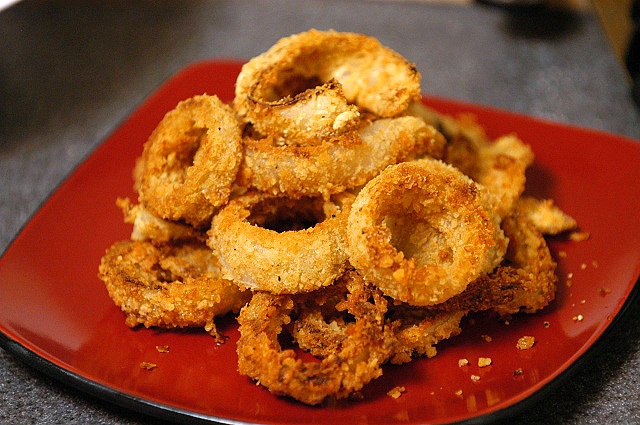 Oven Baked Onion Rings
Ingredients
Cooking spray

4

cups

Ritz crackers

1/2

teaspoon

cayenne

1

cup

low-fat buttermilk

1/2

cup

plus 2 tablespoons all-purpose flour

1/2

teaspoon

salt

1/4

teaspoon

fresh ground black pepper

1 to 2

large Vidalia onions

peeled
Instructions
Preheat the oven to 450 degrees. Spray a baking sheet slightly with oil and set aside.

Place Ritz crackers into a food processor and process into crumbs, or place in a sealable plastic bag and crush with a rolling pin. Transfer to a shallow bowl, add cayenne, and set aside. In another bowl, combine buttermilk, 2 tablespoons of flour, salt and pepper and set aside. Slice onions into 1/2-inch circles and separate into rings.

Place the remaining flour in a sealable plastic bag, then add onions, and shake to coat. Dip onions 1 at a time into the buttermilk mixture, then into cracker crumbs and place on baking sheet.

Spray cooking spray evenly over rings and bake for 20 minutes, or until coating is crisp. Season with salt and serve immediately.

Enjoy!