When my husband snuck a spoon into the soup pot and gave a "WHOOOO!", I knew this soup would be a tad too spicy for me, but just right for him and probably all of the people I share the recipe with. Mark has the highest spice tolerance of anyone I know, and good thing – because this soup was HOT!
The recipe I followed called for four jalapeños, and silly me, I followed it word-for-word since so many people who tried and reviewed the recipe said it came out perfectly. Well, as delicious as the soup was, my first slurp sent me running to the fridge for a tall glass of milk, and my second bite called for a pile of tissues to stop my nose from running. And I thought I could take a little more tang since moving to the West Coast, HA!
So, spice-lovers, this one's for you. If you have a spice tolerance like me, though (as in, not much at all), you should only add about two jalapeños and use the seeds from one. Set aside the seeds from the other in case you think it needs a little more kick. Also, if you'd like, top it with a hearty helping of sour cream to turn down the heat!
Now, I don't mean to knock this soup for its spiciness, because it was so incredibly delicious, especially with a hunk of my moist, mild Jalapeño Cornbread with Honey-Lime Butter. This soup was definitely a very fun and easy way to use the chicken breasts we always have and introduce our palates to something new. I hope you'll give it a try!
Craving more? Keep in touch on Facebook, Twitter, Pinterest and Instagram for new post updates and more. You can also check out my FAQ page, or contact me with any questions or inquiries!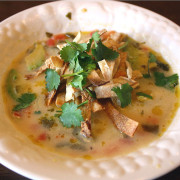 Chicken Tortilla Soup
Total Time: Makes 6 servings
Ingredients:
4 (6-inch) corn tortillas, julienned
1 1/2 tbsp. olive oil
1 white onion, sliced thinly
8 cloves garlic, minced
2-3 (depending on your spice preference) fresh jalapeno peppers, sliced
2 skinless boneless chicken breasts, cut into thin strips
1 quart (32 oz.) chicken broth
1/4 cup fresh lime juice (need 2 limes)
1 large tomato, seeded and diced
Salt and pepper, to taste
1 avocado, peeled, pitted and sliced
1/4 cup chopped fresh cilantro
Directions:
Preheat oven to 400 degrees. Arrange tortilla strips on a baking sheet and bake in preheated oven until lightly browned, 3 to 5 minutes.
In a large saucepan over medium heat, cook onion, garlic and jalapenos in olive oil until lightly browned, 4 to 5 minutes. Stir in chicken, chicken broth, lime juice, tomato, salt and pepper. Gently simmer until chicken is cooked, 3 to 5 minutes. Stir in avocado and cilantro and heat through. Adjust seasonings as needed.
Ladle soup into bowls and top with tortilla strips and cilantro to serve.
Enjoy!