To all vegetarians, this is a warning: you may want to look away. The above image may be considered disturbing and may tempt you to return to your past life of luscious, meaty indulgence. You may experience loss of control and trouble keeping your tongue in your mouth at the sight of this tender, succulent meat soaked for hours in red wine, vegetables and spices.
And we wouldn't want that, now would we?
I'm unashamed to admit that this recipe isn't the famed one of Julia Child, though reading the "Julie & Julia" book was what initially inspired me to take on the task of whipping up a bourguignon. And, actually, I can't believe I just typed "whipping up" and "bourguignon" in the same sentence, because that is definitely too simple a phrase to describe the process, which is fun but time-consuming. The term it deserves is more like, "creating." Creating a bourguignon! Yes, that'll do.
To those who love to cook and love to sink their teeth into a meal that is indescribably tender, warm and cozy to the core, I'm sure you'll find this recipe, which I followed from the Joy of Cooking cookbook, an enjoyable challenge and one that you'll be very proud to have completed.
This bourguignon is quite a bit easier than Julia Child's (about 30 fewer steps to follow!), but is just as scrumptious, flavorful and memorable of meal as winter starts to wind down. So, dig out that monstrous, heavy Dutch oven one last time, roll up your sleeves, turn on some good music, and if you want, grab someone to help you out. This is one recipe you're gonna love!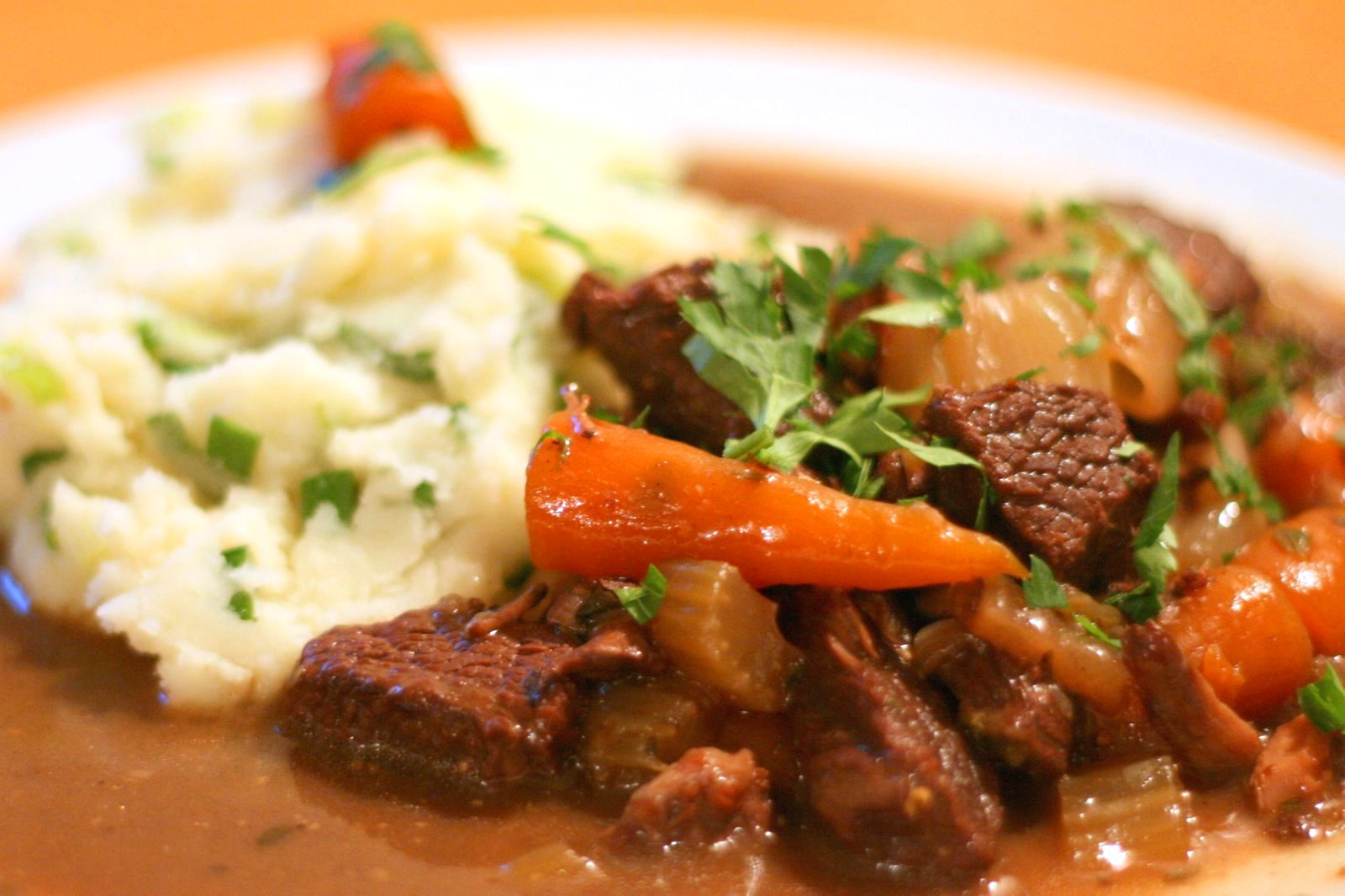 Beef Bourguignon
Ingredients
① 2-3 pounds boneless beef stew meat

such as shoulder chuck

② 2 cups dry red wine

such as Pinot Noir

③ ¼ cup olive oil

④ 1 onion

chopped

⑤ 1 carrot

chopped

⑥ 2 stalks celery

chopped

⑦ 1 garlic clove

chopped

⑧ 1 bay leaf

⑨ 2 tbsp. chopped parsley

⑩ 2 tsp. chopped fresh thyme

or ½ tsp. dried thyme

⑪ 1 tsp. cracked black peppercorns

⑫ ½ tsp. salt

4

ounces

bacon

divided (about 5 strips)

2

tbsp.

all-purpose flour

2

cups

small boiling onions

peeled (such as pearl onions)

2

cups

mushrooms

quartered

¼

cup

chopped parsley

Salt and black pepper to taste
Instructions
Cut the meat into 2-inch cubes. Place meat in a large bowl and add ingredients 1-11. Stir to combine and coat the meat. Cover and marinate in the refrigerator for at least 1 hour, or up to 24 hours, turning the meat occasionally.

With a slotted spoon or tongs, transfer the meat to a plate, reserving the marinade, and pat dry (The meat will not brown if damp). Strain the marinade into a bowl, and reserve the liquid and the vegetables separately.

Heat a large Dutch oven over medium-high heat. Add and brown bacon, about 5 minutes. Remove the bacon, leaving the fat in the pan. You should have 2 tbsp.; If not, add vegetable oil as needed. Return the pot to medium-high heat. Add the beef in batches (half at a time) and brown on all sides, being careful not to overcrowd the pot. Remove with a slotted spoon and transfer back to the plate. Add the reserved vegetables and cook until lightly browned, about 5 minutes. Stir in flour and cook, stirring, until beginning to brown, about 1 minute. Stir in the marinade, then return the beef and bacon to the pot. Add small onions. Bring to a boil. Reduce the heat to low and cook, covered, until the meat is fork-tender, 1 to 1 ¼ hours.

Add mushrooms. Cover and cook until tender, about 20 minutes. Skim off the fat from the surface. Add chopped parsley, salt and pepper.

Enjoy!