For Christmas this year, my Dad (whose birthday happens to be today – Happy Birthday, Dad!) sent me the most delicious cherry jam – irresistible on a warm, toasted slice of my homemade bread – and a small bag of dried cherries. I was intially very excited to use the cherries, but then realized that I had no idea what I was going to use them for. Feeling in need of inspiration, I began Google-ing "what to do with dried cherries" and was met with an array of options – scones, cookies, cakes, even cherries plumped up in warm bourbon and served with pork chops – but one idea really stood out to me, and I knew immediately that I wanted to try it: almond and cherry biscotti with a white chocolate glaze.
Now, I don't have many intricate memories from when I was a kid, but for some reason, I do remember my first biscotti. I had just graduated fifth grade, and my mom gave me a large, fancy tin filled with all kinds of chocolate, a funny Italian language phrasebook, and a tin of biscotti. The hard, narrow cookies didn't look very appetizing at first, but being an adventurous kid, I dove right in. From then on, they have been one my most favorite cookies.
So, fifteen years later, I decided I was going to give biscotti a try. And after the first try didn't work out, I found a new recipe and tried again today. The result was the same great tasting, crisp but chewy cookie I remember from my childhood, and I'd be surprised to come across a better one since I've made my own.
I have no doubt that, if you like biscotti, you'll find making it a fun and easy process. Feel free to get creative with this recipe and substitute any kind of dried fruit, nut and/or chocolate for the ones below. The biscotti can even be given as gifts, or you can snuggle up with a hot cocoa for dipping and enjoy them yourself, like I plan to do!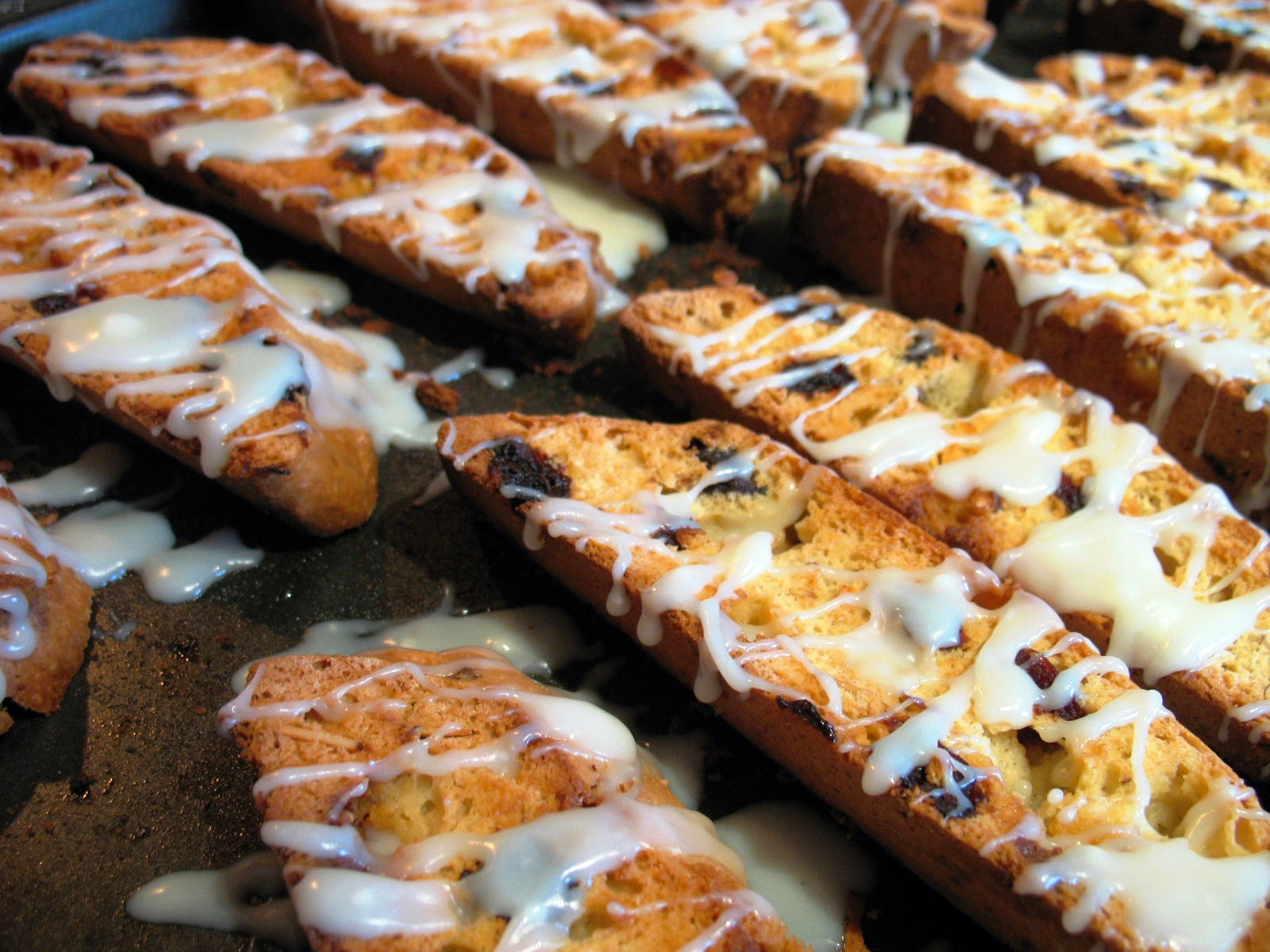 Cherry, Almond & White Chocolate Biscotti
Ingredients
2 2/3

cups

all-purpose flour

1

cup

sugar

2

tsp.

baking powder

1/8

tsp.

salt

1

tbsp.

vegetable oil

1

tsp.

almond extract

1

tsp.

vanilla

4

large eggs

1/2

cup

dried cherries

1/3

cup

white chocolate chips

1/3

cup

sliced or slivered almonds

white chocolate baking squares or chips
Instructions
Combine flour, sugar, baking powder and salt together in a bowl. Set aside.

In a large bowl, whisk together the eggs, oil, and extracts. Add dry ingredients and mix together until combined. Add cherries, chocolate and almonds – either mix with a wooden spoon or very briefly with an electric mixer.

Turn the dough out onto a lightly-floured surface. Knead lightly a few times to be sure that berries, chocolate and almonds are well-distributed. (Dough will be sticky, so you may need to lightly re-flour your surface once or twice.)

Shape the dough into a log about 12 inches long and flatten to 1-inch thickness. Place on a baking sheet and bake at 350 degrees for 35 minutes. Remove roll from baking sheet and let stand for 10 minutes. Transfer to a cutting board and cut roll diagonally into 1/2″ slices.

Place the slices cut-side down on a baking sheet. Reduce oven temperature to 325 degrees, and bake for 10 minutes. Remove, turn each slice over, and bake for another 10 minutes. Let stand for 10 minutes before adding white chocolate.

To add white chocolate, simply melt your desired amount in a double boiler or microwave. If the chocolate is too thick, add about a teaspoon of water and whisk until the chocolate has thinned out a bit. Use a fork to drizzle it over the biscotti slices, or dip each slice in a bowl of the melted white chocolate.

Enjoy!